Summer is finally here! 
Make the most of the warm weather and grab the opportunity to encourage the kids to get outdoors, exercise and keep their eyes away from those dreaded devices all day long.
Auckland has a wide range of fun outdoor activities including a variety of splash pools and water parks across the city. Children and adults alike can grab jandals, togs and towels as you unleash your inner water baby and enjoy the stunning sunshine.
Keeping the kids cool and entertained this summer doesn't need to break the bank. Here are some affordable options to get outside, in the sun and have a splashing good time!
Grey Lynn Paddling Pool
The iconic shallow paddling pool in Grey Lynn is designed for toddlers who can't swim and offers shade sails, on-duty lifeguards, and less stress for parents concerned about kids getting out of their depth. Open December to March the pool is free to use and right next to a playground for extra fun once you've all dried off.
Potters Park
Open September to May, Potters Park Splash Pad is another free-to-use gem in the heart of the city. The colourful play area has tip buckets, sprinklers, mists and fountains and plenty of surrounding shade for shelter on those sweltering summer days. 
Waterview Reserve
You'll be spoilt for choice at this free, interactive, water play area. Designed to delight all ages from toddlers to teenagers, Waterview Reserve's awesome slides and water features will keep the kids entertained for hours. Had enough of the water? Maybe test out your skillsat the nearby skatepark and BMX track. Time to slip, slop and slap, pack a picnic or fire up one of the free barbecues to create a fun day out for the whole family.
Rainbow's End
While not purely a water park, New Zealand's biggest adventure theme park has plenty of rides to thrill, crash and make a splash. With over 20 attractions there's something for everyone including taking the plunge on the classic log-flume ride or challenging your friends and family to a bumper boats race to see who can make the biggest splash! While the ticket price means a visit to Rainbow's End is a treat, rather than weekly outing, hearing delighted screams from the kids is definitely a priceless moment.
Vector Wero Whitewater Park
For the more adventurous families and 'big kids' this artificial white-water course will get you laughing, screaming and wanting more! Qualified guides will thrill and delight you as you raft or kayak down their heart-poundingly-fast river that ends with everyone plunging down the world's highest man-made waterfall. Safety is the top priority at Vector Wero and activities are offered in different levels of thrill and difficulty to ages 5 and up. SUP boards and kayaks are available for hire so you can take things at your own pace and relax on the beautifully clear lake.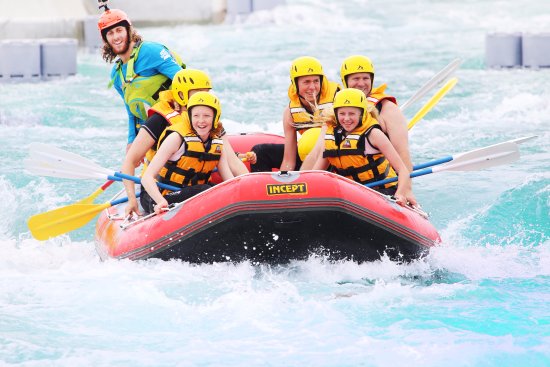 Eager to get in the water? Before you slip on your jandals here are some tips to make the most of your day at Auckland's Water Parks:
● Check times and prices at each park and splash pad. Don't get caught out by any unexpected closures or expenses.
● Keep young children supervised at all times and follow safety rules at each park.
● At larger amusement parks start your day with the most popular rides so you can dodge the crazy crowds in the afternoons and relax.
● Whatever you do, don't forget your sunscreen and togs!